OFB Projektentwicklung realises biotechnology campus in Leipzig and thus creates new headquarters for c-LEcta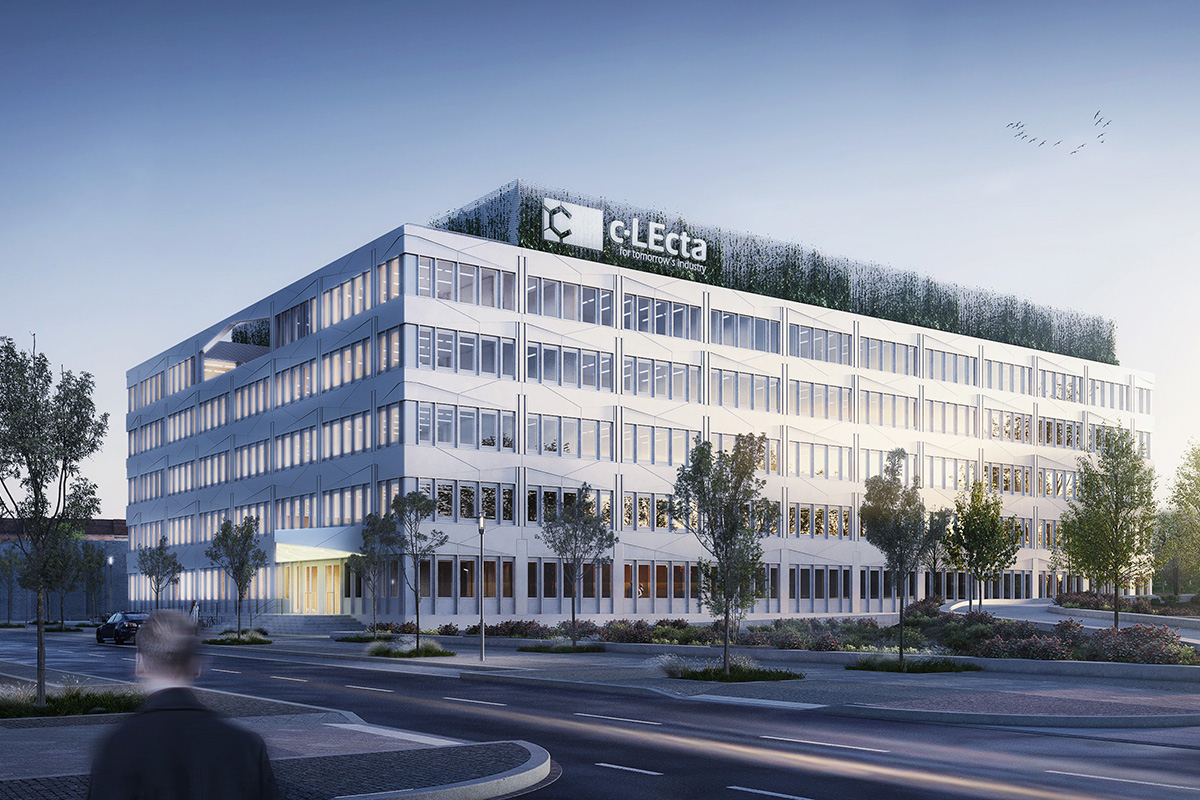 OFB is developing a biotechnology campus in Leipzig by the fourth quarter of 2024. The first section with around 10,425 m² of above-ground lettable space has already been fully let to the biotechnology company c-LEcta. The purchase agreement for the property, which has a total area of around 11,650 m² in the street "Alte Messe", was notarized in July of this year. The seller of the property is LEVG mbh, a company owned by the city of Leipzig, which is responsible for the development and marketing of the "Alte Messe" site.

The project is divided into two components with a combined gross floor area of around 27,000 m². With floor heights of four meters and modern construction grids, the buildings are designed to offer maximum flexibility. There will be space for offices and laboratories, biotechnological facilities as well as training and conference areas. In addition, there will be 128 underground parking spaces and 26 outdoor parking spaces. Construction is scheduled to begin in the second quarter of 2022. OFB Projektentwicklung is aiming for a DGNB gold certificate for the sustainable project.
c-LEcta is a successful, rapidly growing biotechnology company with currently around 100 employees. The company is headquartered in Leipzig and develops, among other things, enzymes and microorganisms that are used, for example, for applications in the pharmaceutical industry. After completion of the project c-LEcta will move completely into the new building and thus obtain space of the most modern standard for the further growth of the company.

"Biotechnology and healthcare are among the global markets of the future growth. In recent years, the 'Alte Messe' location has developed into a centre for innovative research facilities and technology companies," comments Klaus Kirchberger, Chairman of the Management Board of OFB. "We therefore see a growing need for properties that are specifically tailored to the requirements of this target group. I am very pleased that with c-LEcta we have been able to attract an innovative tenant that is a perfect fit for this location. "

Dr Marc Struhalla, CEO and Managing Director of c-LEcta, says: "We feel very connected to the location Leipzig. In this respect, we are very pleased to be able to take the next step in our company's growth here on the Alte Messe site. We are very much looking forward to the joint project with OFB. "

The project site is located directly next to the double M of the Leipzig Sample Fair. The neighbouring "Leipzig MDR" S-Bahn station and several tram and bus lines offer very good public transport connections. The motorway ring is also less than five minutes away. Several innovative research institutions and companies such as the Fraunhofer IZI, the Max Planck Institute, Bio-City or the German Centre for Integrative Biodiversity Research (iDiv) have settled at the "Alte Messe" location in recent years.

For the planning of the project, OFB Projektentwicklung is relying on KLM Architekten und Ingenieure Leipzig and ZBP Zimmermann und Becker for the technical building equipment.
About c-LEcta
c-LEcta is a world-leading biotechnology company with a focus on enzyme engineering and application in regulated markets like the food and pharma industries. The company is based in Leipzig, Germany, and has established itself as a leading player in the realization of high-value biotech products, either in the form of in-house developments or in close cooperation with industry. The company currently employs more than 100 people.
c-LEcta delivers cost-efficient and sustainable production processes which open new markets and allow for better penetration of existing markets. The company is characterized by fast and efficient development of best-in-class biotech solutions and a rapid and successful market introduction and commercialization of the resulting products. This enables c-LEcta to leverage the unique potential of its core technologies. c-LEcta has a proven track record of more than ten successfully commercialized high-value industrial biotech products.
About OFB
OFB Projektentwicklung GmbH has been in the real estate business for over 60 years. And still as committed as on day one. As a subsidiary of Landesbank Hessen-Thüringen and part of the Helaba Real Estate Group, high-quality and sustainable large-scale real estate is our passion. Project development, project management and real estate management are our passion.
At our headquarters in Frankfurt am Main and in our branches in Berlin, Erfurt, Munich, Düsseldorf and Leipzig, around 140 employees implement successful real estate projects throughout Germany. In doing so, we want to achieve more than others - and therefore take into account the interaction of economic, ecological and social components as early as the planning stage of our projects. The goal: to further develop our projects and ourselves.